Restaurant

If you arelooking for an authentic family Restaurant in Goathat serves authentic Punjabi food in north Goa, then your destination is Wagah Border at Tangerine, the north Indian restaurant in Calangute. Wagah Border is the only border crossing between India & Pakistan that lies on the G.T. Road between the cities of Amritsar (India) & Lahore (Pakistan). Wagah is the village wherein its eastern half remains in India whilst the other half in Pakistan. The authentic Punjabi restaurant in Goa offers value of money and definitely a treat for your taste-buds.

Today, Wagah Border is a symbol of peace, love and friendship, drawing approximate 8,000 visitors every day to witness the culture of 2 divided countries.

>> Punjab - A landscape of sun-drenched cornfields and glorious kingdom.
>> The land of the five great rivers, whose banks have blossomed.
>> The passion of the star-crossed lovers, Heer and Ranjha, Sohni and Mahiwaal.
>> You will embark on a voyage of discovering cuisine from Punjab's vast geography and treat your senses with the best Punjabi food in Goa.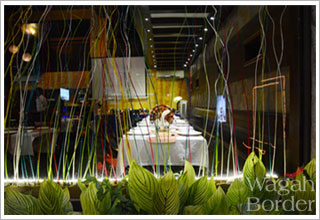 The culture of Punjab which is divided and dispersed amongst two countries, we at Wagah Border Restaurant represent a cultural mix and careful blend of ethnicity through the food of undivided Punjabi cuisine recipes. For the north Indians, their search for a Punjabi dhaba in Goa, ends at Wagah Border.


We create every dish using only the most fresh and finest culinary ingredients. Our most famous and authentic recipes of North Indian food in Goa create a truly delectable dining experience.

A culinary journey through North-West Indian food and Indian five dining experience in Goa, and then Wagah Border is the place to be. A one-of-a-kind authentic Punjabi Family restaurant in Goa to meet the spicy palate demands.

Exquisite, tongue-tickling North Indian cuisines have proven to be yet another treasure… from a land historically recognized for its renowned riches. Be sure to visit Tangerine Resorts to experience delicious North Indian food and get treated at the Indian five dining restaurant in Goa.